Sex on Toast are pr
oud to release their new single, the moody and evocative falsetto-leaden slow jam "Hold My Love" from their long awaited nine song debut album. A lonely wolf-howl of romantic turmoil... a contemplative nocturnal sex ballad...


Download Hold My Love here... https://sexontoast.bandcamp.com/album/hold-my-love

March 28th, Northcote Social Club
Publicity Contact: karen@karenconradpublicity.com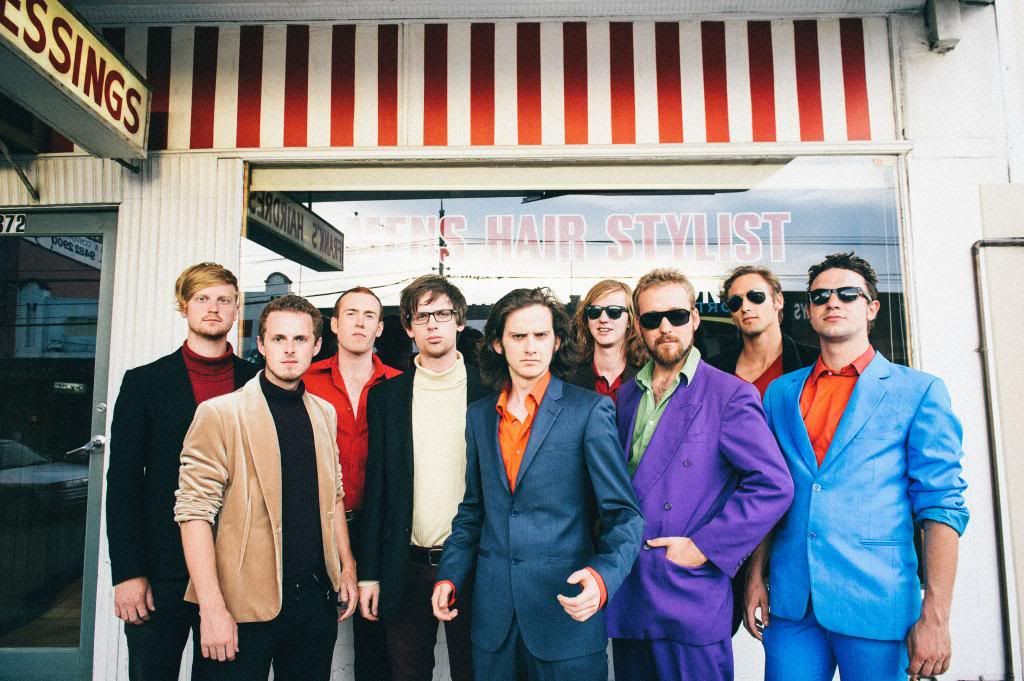 "Sex On Toast are probably the greatest band on earth. They are nine men, and between them they possess all the raw sexual power of Prince, the musical prowess of James Brown and the cheesy goodness of an '80s game show host. Sex On Toast bring the ruckus. " - themusic.com.au, Inpress Magazine. Kate Kingsmill, writer for The Age. 
A nine man explosion of 1980's pop music, yacht-rock, Rn'B, and synth-funk, Sex On Toast showcase undeniable musical finesse whilst never taking themselves too seriously. With an outrageous live show featuring tight vocal harmonies, talk-box synthesizers, drum-machines and choreographed dance moves, they're consistently engaging an ever expanding audience of both chin-stroking musicians and teenage revellers. 
Through word of mouth alone, they've quickly become a cult favourite in Melbourne, regularly packing out local venues. The band has hosted several residencies at The Toff In Town, The Empress and The Evelyn Hotel, including a highly successful residency with the Vaudeville Smash in January 2013, and a sell-out residency in September 2012. 
The group has featured at the Bedroom Philosopher's "High School Assembly" Melbourne International Comedy Festival (2012),  'An Evening With Sex On Toast' at the Adelaide Fringe (2012), Junction Festival Launceston (2012), and every year at The Village at Falls Festival since 2009 including both Marion Bay and Lorne festivals. In 2013 Sex On Toast will perform at the Apollo Bay Music Festival and 'What Is Jazz?' talk show for the Melbourne International Jazz Festival.
Current members and alumni of Sex On Toast can also be seen in a wide array of groups such as Hiatus Kaiyote, Saskwatch, True Live, Vaudeville Smash, James Morrison's band and The Australian Art Orchestra.
They have shared bills with internationally acclaimed comedian Neil Hamburger (USA), The Barons Of Tang, Hiatus Kaiyote, Vaudeville Smash, Laneous And The Family Yah and The Bedroom Philosopher. 
2013 will see the release of Sex On Toast's debut album, an opus of raw emotion, tumultuous sexuality and party jams, recorded at Sing Sing studios and mixed in stereo, for her pleasure.
Angus E. Leslie- guitar, vocals, keyboards
James Bowers- keys, talkbox, vocals
Marty Hicks-keys, keytar
Zak Pidd- vocals, percussion
Gareth Thomson- drums, production
Benjamin Harrison- trumpet, flugelhorn, vocals, guitar
Johnny Bassoon- sax, bassoon, vocals
Louis King- guitar, vocals
Marty Holoubek - bass guitar


ADDITIONAL PERSONNEL:
Zak 'Tippy' Hutterer - drums